Update: Supervisors Send Revised Fair Letter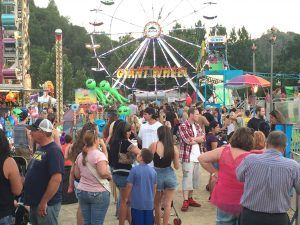 Mother Lode Fair

View Photos
Update: The Board of Supervisors voted unanimously to send a revised letter to Governor Jerry Brown regarding the Mother Lode Fairgrounds. Rather than propose specific alternatives, it requests the Governor's Office to work with local leaders to develop and implement a management process and structure that ensures local accountability.
Original story posted at 11:57pm: Sonora, CA — The Tuolumne County Board of Supervisors postponed a vote until later today on whether to send a letter to Governor Jerry Brown in response to concerns about the Mother Lode Fair Board.
We reported previously that some of the Fair Board members and the hired management staff have been at odds, with Fair CEO Stacey Dodge recently announcing that she will resign at the end of the month. Dodge had earlier filed harassment claims against board members Peggy Lee and Jan Costa related to allegations over financial matters. At the last Fair Board meeting several audience members urged the board to find a way to keep Dodge on staff, but she has indicated she is not interested.
The Supervisors proposed letter to the Governor that went up for discussion this morning suggested two alternatives. The solutions were that an ad hoc committee be formed to make recommendations about Fair Board appointments, and the second option being that the county lease or take ownership of the fairgrounds and oversee its operations.
District Four Supervisor John Gray expressed caution about the letter and had concerns about both alternatives. Referencing the second proposal, he said, "Right now we're bringing a juvenile detention facility online and we're building a new jail. If we add facilities (fairgrounds), we already know that we have an overabundance of things for the facility department to do. We need to know what this would cost us to take this lease on. I'm not saying that I'm against it, but just to blatantly say I'm in favor of leasing it, I'm not, there's too many questions there."
District One Supervisor Sherri Brennan responded to Gray's statements by saying, "This is opening a conversation. It is recognizing that there are issues going on here, and these are two possible solutions. What I am most interested in is opening up a dialogue with other counties that are experiencing similar problems and starting down a pathway to find some solutions."
Gray also argued that no members from the fair were in attendance, and no one representing the Fair Board had officially indicated that they desire help from the county. Brennan noted that some individuals had reached out to certain Board of Supervisors privately expressing support for the county to take action.
Board Chairman Karl Rodefer stated at the end of the debate that both supervisors Brennan and Gray made valid points. Rodefer said he would meet with Supervisor Gray to write up a revised version of the letter. Indications were that it would be more generic in nature. Rodefer said it will say, "We're interested in entering a dialogue, immediately, with the Governor's Office on how to ensure local operational management accountability for the management of the fairgrounds."
Gray stated that he preferred the revised approach.
The new letter will go up for another round of discussion, and potential vote, later today.
The county's letter will also express the importance of the fair not only to the local community, but as a local disaster response center as it was utilized during the 1987 Stanislaus Complex Fire and 2013 Rim Fire.