Hiker Rescued Near Pinecrest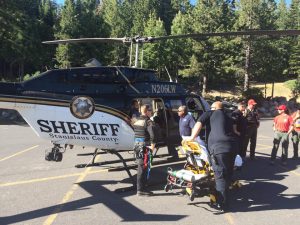 Hiker Rescued Near Pinecrest

View Photos
Pinecrest, CA — Search and rescue crews were able to successfully help a hiker that was experiencing medical issues.
The Tuolumne County Sheriff's Office reports that the 32-year-old man, only identified as Miles, was hiking with a friend near the Crabtree Trail Head. The friend ventured over to the Aspen Meadows Pack station in hopes of finding help for his friend.  Law enforcement officials were notified by telephone from officials at the pack station, and arriving rescue crews were escorted in via horseback by an Aspen Meadows guide. The hiker was resting just over a mile away from the pack station.
The Stanislaus County Sheriff's Department Helicopter 101 was dispatched and landed in a nearby area. The hiker was picked up and transported to the Dodge Ridge Ski Resort. An ambulance was waiting there to take him to Sonora Regional Medical Center for treatment.
Groups assisting with the rescue included the Tuolumne County Sheriff's Office Search and Rescue team, Stanislaus County Sheriff's Air Unit, Tuolumne County Ambulance and fire crews from Pinecrest, Strawberry, Mi-Wuk Fire and the US Forest Service.
The injured man and his friend had been in the midst of a three day hiking trip. The rescue occurred on Sunday afternoon.