Miller: Progress Towards Acquiring Needed Property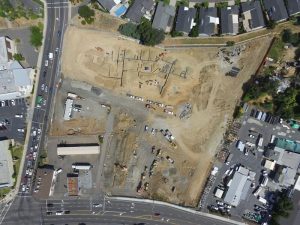 SRMC Construction

View Photos
Sonora, CA — Barring unforeseen circumstances, Sonora City Administrator Tim Miller says an offer should be ready within the next month related to needed property at the Greenley Road/Mono Way intersection.
Miller gave an update on efforts to widen the intersection to the Tuolumne County Board of Supervisors today. The project cannot move forward until the Corner Gas property is acquired by the city. There is an urgency to move the project quickly because traffic will increase next year with the planned opening of SRMC's Cancer Center. Miller said, "The City Engineer has prepared preliminary engineering for the (widening) project. We have obtained our environmental clearance for the project and completed the property appraisal. We just recently completed the site assessment and we are in our due diligence review before we make an offer on the property. If there isn't any unforeseen circumstances that come up during that review…I expect that we'll be in a position to make an offer to the property owner within the next 30 days."
SRMC's nearby construction is underway after receiving a grading permit and shell building permit from the city. Miller says the tenant improvement plans are still in the final review phase.
Miller says that ideally the widening project will begin around the first of the year, weather permitting, and conclude within 3-4 months. He says the city is still hoping that it is completed prior to SRMC opening its facility.
The City of Sonora is overseeing the $3-million-plus project, but the County will pay up to $2-million in Traffic Impact Mitigation funds.
The images in the story are from a drone that flew over the SRMC construction site.