County Approves Preliminary Budget: TOT Sparks Debate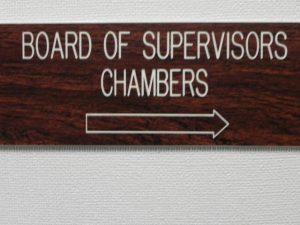 Tuolumne County Board of Supervisors Sign

View Photos
Sonora, CA — Tuolumne County leaders approved a roughly $170-million preliminary budget for 2016-17, but one of the more contentious decisions will be made in a couple of months.
When the final budget is reviewed in late August and early September, the county will decide whether to make any alterations to the percentage of revenue given to the Tuolumne County Visitors Bureau via the Transient Occupancy Tax. The Visitors Bureau, tasked with marketing Tuolumne County, currently receives 25% of the TOT revenue collected by the lodging industry. Tourism spending has been on the rise over  recent years and is only expected to increase with the opening of Rush Creek Lodge outside of Yosemite National Park. County staff has been contemplating whether to move towards reducing the percentage the Visitor's Bureau receives to around 23% so that additional funding would be available for other needs. The theory would be that the Visitors Bureau would still receive a similar amount of revenue because the overall increase in tourism spending would offset the declining percentage.
Supervisors Evan Royce, Randy Hanvelt and Karl Rodefer expressed concerns about the idea. The term "dis-incentivizing success" was used to characterize the proposal. Several business leaders, representing the Tuolumne County Chamber of Commerce, Tuolumne County Business Council, Rush Creek Lodge, Dodge Ridge, and others spoke in opposition.
District Four Supervisor John Gray did not share his personal opinion, only to emphasize that it would be decided in August when better revenue projections are known.
District One Supervisor Sherri Brennan expressed some openness to the idea, citing that there are other programs tied to tourism that also need support, noting the Arts Alliance, Mother Lode Roundup and the Fair. "Quite frankly, we don't have enough dollars in the pot. I want to be very clear that I support our Visitors Bureau and I am not looking at cuts, but I do want to look at what the rate of growth is moving forward."
The current agreement put in place several years ago says the Visitors Bureau is to receive 25% of the county's 8% tax revenue that is placed on lodging. It was noted today that the agreement (wording) needs to be revised regardless of whether the percentage is changed because the TOT percentage was increased to 10% in 2010.
County staff members will meet with members of the Visitors Bureau, Lodging Association, and others in regards to the matter prior to the August 16 meeting and will come back with a recommendation moving forward.