Reaction To California's $122.5 Billion Budget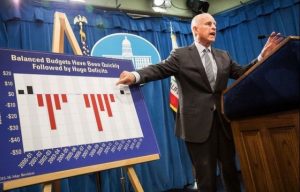 Governor Brown Releases Budget

View Photos
Sacramento, CA — Republicans and Democrats have different opinions of the $122.5 billion budget approved Wednesday afternoon.
The spending details were worked out last week by Governor Jerry Brown and Democratic leaders, and formally approved yesterday in the Assembly and Senate. It will increase spending for safety net programs and add $2-billion to the rainy day fund.
Assembly Democratic Speaker Anthony Rendon says, "This budget is both responsible and visionary. We make these investments while ensuring our fiscal stability by growing the state's Rainy Day Fund. This is a very positive budget – and a very positive step for California."
Mother Lode District Five Republican Assemblyman Frank Bigelow was disappointed with the end result, saying, "State spending has increased by $36 billion since the 2011-2012 state budget. This type of increased spending is just not sustainable. The bottom line is our budget continues to grow. We have to get serious about ways we can cut state spending and pay down more debt."
Senate Democratic Leader Kevin DeLeon feels the additional spending is a positive, saying,  "It makes key investments to fight poverty and homelessness, bolsters education from pre-school to college, and targets critical funding for health care and public safety while setting aside significant savings to hedge against harder times."
Republican Board of Equalization Member George Runner responded, "The governor is wise to boost the state's rainy day fund by an additional $2 billion, especially with the threat of a recession looming. However, the majority party has produced another budget that breaks spending records and doesn't wisely spend taxpayer dollars.This budget does little to improve our neglected roads, and if budgets are about setting priorities, you have to consider the statement the majority party is making."
Governor Brown is expected to sign the budget sometime in the coming days.