Update: Fire Extinguished At Stockton Road Homeless Camp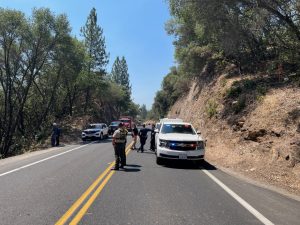 The City Fire burning along Stockton Road in Sonora 7-12-22
Update at 3:55 p.m.: The CHP has reopened a section of Stockton Road in Sonora that was forced to close while firefighters battled the half-acre City Fire near a homeless camp. The closure stretched from Highway 108 to Ponderosa Way in Sonora and was shut down for about two hours. Stockton Road has completely reopened and traffic is moving freely once again. What ignited the blaze remains under investigation. It happened around the time that city officials were serving eviction notices to homeless residents living in that area. Further details on the fire can be viewed below.
Update at 2 p.m.: A section of Stockton Road remains closed due to the City Fire. While its forward rate of spread was stopped in the 11 o'clock hour at 1/2 an acre, the roadway will remain closed until at least 4 p.m., according to the CHP. That section stretches from Highway 108 to Ponderosa Way in Sonora. Ground crews remain on the scene mopping up. The fire started just before 11 a.m. near a homeless camp, and what ignited it is under investigation.
Update at 11:40am and below written by BJ Hansen: Stockton Road in Sonora will remain closed until further notice between Highway 108 and Ponderosa Drive in Sonora due to the mop-up efforts related to the "City Fire." It burned about 1/2 acre near a homeless camp on Stockton Road. There are no evacuation warnings or orders in place.
Initially, responding police officers told some residents along Southgate Drive to evacuate, but that directive has now been lifted, and residents can return. The cause of the fire remains under investigation.
Update at 11:20am: CAL Fire reports that the forward progress has been stopped on the "City Fire" burning on Stockton Road in Sonora. It was near a homeless camp. The size was 1/2 acre. Officials will continue to mop-up the incident and investigate the cause. No structures were damaged.
Update at 11:12am: CAL Fire is updating that the "City Fire" has burned about a half-acre on Stockton Road. It is in the vicinity of a homeless camp. Air and ground resources are on the scene. Be prepared for activity. There are no reports of any structures immediately being threatened. We will pass along more information as it becomes available.
Original story posted at 10:57am: Sonora, CA — Firefighters are responding to a small vegetation fire reported on the east side of Stockton Road in an area near a homeless camp.
It is estimated to be a 25 by 100 ft. spot of vegetation on fire. Be prepared for activity in that area.