As Pools Prepare To Open Lifeguard Staffing Plans Tread Water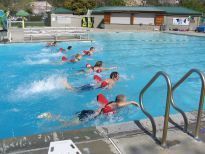 Participants In Lifeguard Training Class

View Photos
Sonora, CA — Heading into Memorial Day holiday weekend, with graduation following on its heels, many soon anticipate a splashing good time at local pools, which open June 10.
However, a shortage of lifeguards may prove to be a bit of a spoiler for folks hoping to make use of the county's public pool in Tuolumne City, according to Tuolumne County Recreation Supervisor Eric Aitken.
Attempting to accentuate the positive Aitken maintains, "We are hoping for a full season with all four pools being open. However we are extremely short-staffed in terms of lifeguards to open all the pools…it is looking likely that Tuolumne Pool will not open — or at least open on time. We are about maybe 15 to 20 lifeguards short."
Lifeguards Wanted
Consequently, Aitken says his department is actively recruiting those who seek to don the sunshades, "Lifeguard" shirt and whistle this summer. Two training classes are being set up for the purpose of certifying potential new personnel. Hourly pay starts at $10.33 per hour.
A former lifeguard, himself, Aitken describes the seasonal summer gig as ideal for high school and college students. "We have a lot of college students who come home for the summers and it helps put them through college because it is a job they know they can come home to." Further pitching the currently available opportunities, he also points out, "It is a way to help give back to the community…help the kids, and provide a fun and safe environment for kids and families to enjoy themselves during the hot summer days."
Think you have "the right stuff?" Red Cross prerequisites to get into the lifeguarding class specify that individuals must be 15 years or older; be able to swim 300 yards continuously, using either the front crawl or breaststroke and tread water for two minutes using the legs only. There is also a timed swimming event that must be completed within a minute and 40 seconds during which one must swim 20 yards; dive to the bottom of the pool to retrieve a ten-pound brick; resurface with the brick and then hop out of the water.
Aitken says pre-tests are generally given on a Saturday and would be followed by the 40-hour lifeguarding class, which attendees would normally complete within a week. Goals are for each student to become certified in CPR for the pro rescuer, first aid, and use of AEDs (automated external defibrillators). While the course cost, at $153.75, is a bit of a rub, the certification lasts for two years. He adds, "If they work for us, we actually re-certify all of our staff as part of the in-service training, for which the county covers the costs."
Summer Offerings Online Now  
On a related note, sign ups for three sessions of kids' Red Cross swim lessons has begun online, in tandem with other Parks and Rec programs being offered this year (more details on those at the bottom of this article). These run Monday through Thursday for two weeks, according to Aitken. Offerings include Parent-Child, Tiny Tots and Levels 1 through 6. The county pools are located on the Sonora High campus; in downtown Twain Harte on Fuller Road; and at Columbia Elementary, accessible off Airport Road. Again, the pool in downtown Tuolumne will not be opening with these other aquatics facilities on Friday, June 10. Its eventual opening sometime later this summer, as Aitken emphasizes, "Really depends on if we can get people to take the [lifeguarding] class, pass it and then apply."
Daily recreational swim hours will run six days a week from 1 to 5 p.m., bookended by morning and evening swim lessons. Aquatics classes and lap swims are also scheduled at each facility. The Sonora pool is closed Saturdays; Twain Harte and Columbia pools are closed Sundays.
As mentioned above, online registration is currently underway for all Tuolumne County Parks and Rec summer activities. Along with the customary camps and clinics, new programs this season include a Storytime Yoga class for kids, six sessions of rock climbing, and a fencing camp. For more details on aquatics offerings as well as the rest of the Tuolumne County Parks and Recreation Summer 2016 programs and activities, click here.