Voter Registrations Reflecting Anticipation Of June 7 Primary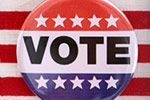 elections

View Photos
Sacramento, CA – Elections officials say that, with a week and a half left until the May 23 deadline more than 70 percent of the state's eligible citizens have now registered to vote.
Thursday, Secretary of State Alex Padilla released the second of three reports from his office that gauge voter participation. These latest figures reflect registration activity as of April 8, 60 days ahead of the June 7 primary election.
Downtrend In Republican Registrations
Padilla's latest report, compared to April 2012 data, shows that registered Republican voters, at roughly 4.8 million —  over 27 percent of the voter total — are down in number by nearly three percent. Democrats, who now make up about 7.5 million — nearly 44 percent of the total — have incrementally increased. About 4.1 million — or 24 percent of voters thus far — have registered with no party preference, which is up more than two percent.
The American Independent Party, which shows over 474,000 supporters, gained three percent in this latest report over the same time back in 2012. All other parties continue to show support in fractional numbers, with Libertarian, Peace and Freedom and Miscellaneous trending slightly up; the Green Party on the downtick.
Compared to the April 2012 report, the county with the biggest percentage of voter gains this time around is Central Valley neighbor San Joaquin County, where registrations are up by nearly 12 percent.
500,000+ Voters Use Online Registration This Past Month
Padilla also reports that, since April 6, his office counted over a half-million transactions by voters on the state's online registration website. These include new registrations as well as updates to existing ones. Nearly 53 percent were by young voters in the 17-35 age range.
Interestingly, Padilla points out that the online activities seemed to spike in the days immediately before and after the New York primary on April 19; Pennsylvania-Maryland-Rhode Island-Delaware-Connecticut primaries April 26; and the Indiana primary on May 3.
Further urging the surge, Padilla states, "Whether you've recently turned 18, become a new US citizen, or just want to vote for the first time—register today. You can even register from your smart phone at Register-To-Vote-dot-C-A-dot-gov." He adds that it is quick and easy to make your registration current by providing an updated address, name or party affiliation change online.