Longtime SRMC Leader Witzlsteiner Retiring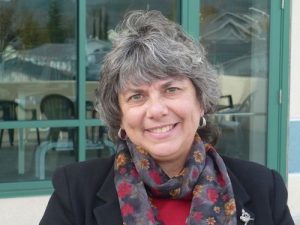 Gail Witzlsteiner

View Photos
Sonora, CA — Gail Witzlsteiner, who has been at the forefront of several of Sonora Regional Medical Center's efforts over the past 21 years, will be retiring this summer.
SRMC  President and CEO Andrew Jahn reports that Witzlsteiner's announcement is effective July 7. Witzlsteiner, the Executive Director of SRMC's Foundation, has accumulated several accomplishments during her span at the medical center. She completed the hospital's first capital campaign in 2002 to support the development of the current campus and is leading a similar effort to raise $3-million for the new cancer center. She has developed several annual events, including the Joie de Vie Gala, Golf Classic, Gran Fondo, Dinner with a Doc and Festival of Lights. In total, the efforts have raised over $23-million in philanthropic support and over $7.5-million in estate and property gifts.
President and CEO Jahn says, "We're really going to miss the contribution that Gail's leadership has brought to this organization, taking us from a small community hospital at the old campus, to the regional medical center. There is a long list of contributions Gail has made to the community, but the one that I would highlight is her focus on philanthropy and  building a philanthropic program at our hospital to help connect and cement relationships with literally thousands of people in our community who have come to know our organization as a great, non-profit, community resource. The legacy that Gail's created in our community is going to last well into her retirement."
Witzlsteiner adds, "While I have been fortunate to have had an interesting and challenging career, I am looking forward to a less stressful life. I will miss working with all of the wonderful volunteers that I have come to call my friends and to whom I am most grateful."
Witzlsteiner has also been active with several community organizations. She was named the "Citizen of the Year" by the Tuolumne County Chamber of Commerce in 2002. Upon retirement, Witzlsteiner plans to continue volunteer work  and spend more time with her husband David and daughter Katie. In addition, she plans to spend extra time gardening, learning to play the piano and developing a small business.