Tuolumne Me-Wuk Tribe Backing Jim Thorpe Film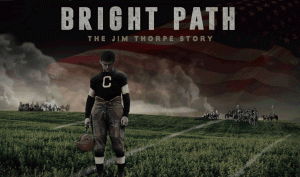 Bright Path - The Jim Thorpe Story

View Photos
Tuolumne, CA — A local tribe is getting behind a planned film that is designed to tell the authentic story of legendary Sac and Fox Indian Jim Thorpe.
The project, entitled Bright Path: The Jim Thorpe Story, will chronicle the athlete's early life leading up to his Olympic triumph and final college football season where he led the nation in scoring.
The film's producer, Abraham Taylor, says, "To tell an authentic Jim Thorpe story we have to maintain control of the project. The only way to do this is with the help of Indian country. We are honored and incredibly grateful for Tuolumne's partnership on this project."
A media release about the film notes, "The bulk of the story takes place at the Carlisle Indian Industrial College, whose mission was cultural annihilation. Carlisle, one of the first off reservation boarding schools in the United States, housed children from more than 140 Tribes during its 39-year history."
Chairman Rick Hill of the Oneida Tribe, one of the film's Executive Producers, says, "Thorpe's life is the perfect backdrop to tell the authentic story of the genocide of our Indian people. Bright Path will become an important voice in our communities and can help us to heal."
Tuolumne Band of Me-Wuk Indians Tribal Chairman Kevin Day adds, "By honoring our ancestors and telling our story we strengthen our communities and prepare our youth for tomorrow. We are proud to participate in this important project and see an accurate portrayal of our great hero, Jim Thorpe."
Pictureworks Entertainment, the company behind the film, anticipates additional tribal partnerships to help close out funding, with filming to potentially start later this year.