Rim Fire Reforestation Plan Incorporates Multiple Strategies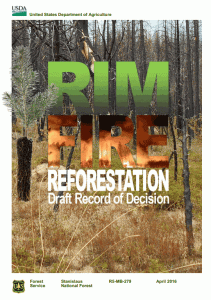 Rim Fire Reforestation

View Photos
Sonora, CA — Different strategies are set to be carried out in the effort to restore a portion of the Stanislaus National Forest burned by the 2013 Rim Fire.
This morning the Forest Service formally released a Draft Record of Decision for Rim Fire Reforestation. Four different sets of strategies are proposed to be carried out across over 40,000 acres along the Rim Fire footprint.
After receiving much public input, the Forest Service worked towards striking a collective balance.
Breaking it into four distinct alternative sections, it will also provide the Forest Service information in the decades ahead about how different areas responded to the treatments. For example, one section will have manual herbicide applied and seven different planting strategies utilized, with the trees per acre planted ranging from 152-303. In a different nearby region, no herbicide will be used, with the trees per acre ranging from 244-514. Hand grubbing would be done, up to twice a year there, depending on competing vegetation species. The four different areas would have varying levels of prescribed fires and tree spacing.
Stanislaus National Forest Supervisor Jeanne Higgins says, "I think people will be very pleased with arrangement and incorporation of all the strategies into this decision."
Asked whether she has heard much opposition to the plan, she acknowledges, "There are some folks that were concerned about the use of herbicides, and about the planting densities that we considered. And generally, folks were concerned that we may have too many trees out on the landscape, and that could be contributing to the extreme nature of fires that we have. They were concerned about how we plant trees. So, in large part, this has led to the different alternatives that we are looking at."
Higgins expects to sign the Final Record of Decision around September and work would begin shortly after that time. You can find a map of the various areas by clicking here. You can find more details about the plan by clicking here.