Plug Pulled On Hetch Hetchy Drain Lawsuit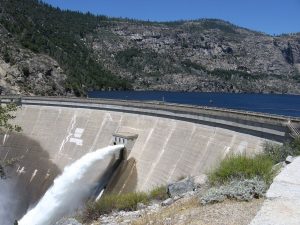 Hetch Hetchy Reservoir

View Photos
Sonora, CA — A Tuolumne County judge has thrown out a suit filed by a group pushing for the emptying of  Hetch Hetchy reservoir  located in Yosemite National Park on the grounds its unconstitutional.
The lawsuit had called for the reservoir, which supplies drinking water to more than 2 million San Francisco Bay Area residents, to be drained and the valley restored to its natural state.  In his ruling on Thursday, Judge Kevin Seibert sided with San Francisco City officials who were opposed to removing the reservoir's water.  Restore Hetch Hetcy, the group that sued the city had claimed that the reservoir violates the California Constitution.  Seibert ruled against that argument stating that the group's interpretation of the state constitution was pre-empted by the 1913 federal law that authorized the dam and reservoir at Hetch Hetchy.
The group's executive director has already vowed to appeal the ruling. However, he did not reveal when he would be filing that appeal.