Sizable Grant Repairs Vandal-Damaged Park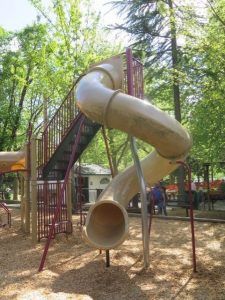 Murphys Community Park children's area

View Photos
Murphys, CA – After vandals hit the Murhpys Community Park children's area in the summer of 2014, park officials attempted to fix items like a fiberglass slide smashed by a sledgehammer but the repairs were not permanent.
"Unknown people have vandalized the area and virtually destroyed the slides and climbing apparatus making them unsafe," says Sue Friedman, president of Murphys Community Club, which maintains the park.  She adds, which forced some tough decisions regarding what maintenance needs would be met or put on hold this year.  Then she got word of a $15,000 grant from the Calaveras Community Foundation, which changed everything.  "It was like a windfall from heaven," remarks Friedman, "This generous grant will allow us to restore the equipment and buy new swings.  It will also pay for installing several tons of wood chips in the area as mandated by the state."
The repairs have already been made and the funding will pay off the outstanding bills and even allowed the on hold projects to be completed.  "It takes a lot of money to maintain and improve this park," shares Friedman.  "We have recently had to re-sod the grassy area to make it ready for the many events that will take place over the coming months.  We also need to replace a barbecue, and complete the bocce ball courts that have become very popular.  This grant from the Calaveras Community Foundation will take care of one of our major concerns; we now can concentrate on addressing the other problems and raising the necessary funds."
The club gets all its funds through park rental fees and donations.