Alert Security And Detective Work Nab A Thief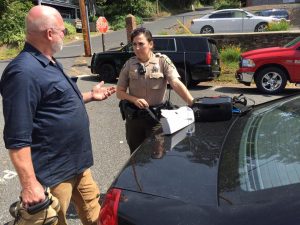 TCSD Deputy Ashely Boujikian returns stolen items to property owner Dave

View Photos
Groveland, CA — A Sonora man is behind bars charged with burglaries in the Groveland area thanks to some watchful security guards and a deputy's follow-up.
Tuolumne County Sheriff's Deputy Ashely Boujikian was able to return some stolen property to its rightful owner on Tuesday as shown in the picture in the upper left-hand image box. The victim, Dave, has asked that his full name not be given, according to sheriff's officials.
A burglar hit three properties on Cottonwood Street along with a former bed and breakfast near the Evergreen Lodge on Friday night. On Saturday night, sheriff's officials report Pine Mountain Lake (PML) Security guards saw a man walking near the airport and spotted him leaving a bag in the area, which they collected and handed over to Deputy Boujikian. A check of the items linked them to the earlier burglaries. The deputy found 20-year-old Camron McFadden, who fit the description of the man given by the guard, at a mini storage facility in the area in a unit.  A search found more stolen items inside and on him, according to Sgt. Andrea Benson who details some of the stolen property, "Some clothing, a fishing vest, and boots. He had stolen checks that had been written to McFadden that were taken into evidence. He also had miscellaneous equipment including a drill and sawzall taken from a garage."
McFadden was arrested and booked into the Tuolumne County Jail for burglary, possession of stolen property, and theft. His bond is set at $50,000. Sgt. Benson notes how cooperation and alert staff netted the alleged thief, "PML staff kept an eye on anybody suspicious in the area and followed up with our deputy, who in turn searched the surrounding area and was able to locate the suspect."
Sheriff's officials indicate that several thousands of dollars worth of items were stolen with an additional list being compiled, which includes some of Dave's military memorabilia.