Tuolumne County Supervisors To Address Bridge Infrastructure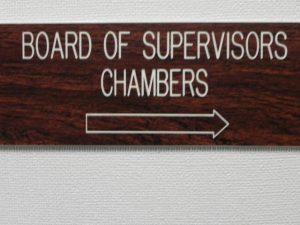 Tuolumne County Board of Supervisors Sign

View Photos
Sonora, CA — Planned bridge improvements will be among the many items the Tuolumne County Board of Supervisors will discuss on Tuesday.
The Board will vote whether to prepare an application to apply for federal funding to rehabilitate or replace several bridges. Three are along Italian Bar Road, and the others are along Old Strawberry Road, Cedar Springs Road and Columbia Way. In addition, there are low water crossings that the county would like to replace along Red Hills Road and Marshes Flat Road.
Also, the Supervisors will vote on sending a letter urging state lawmakers to take immediate action in passing a transportation funding package to help improve California's crumbling road system. The letter will specifically note that the county wants existing state funds to be reallocated, and no new taxes implemented. The state has an estimated $6-billion state and $8-billion local transportation maintenance backlog.
Also, the Board will discuss a proposed amendment to the Professional Services Agreement with a company working to help test the site of the juvenile hall under construction. The original agreement was not to exceed around $96,000, but the company would like an additional $83,000 due to the high amount of rock that has been encountered. Tuesday's meeting starts at 9am.