Local CAL Fire Heroes Receive Medal Of Valor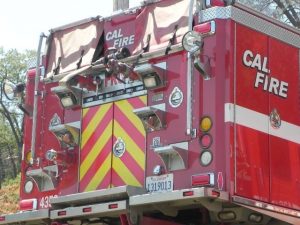 Cal Fire Truck

View Photos
Sacramento, CA —  Seven firefighters, including two from the region, received the prestigious Medal of Valor Award from Governor Jerry Brown.
It is the highest honor a state employee can receive, and it is for acts of heroism that extend beyond the normal call of duty.  Among those recognized are CAL Fire Captain Justin Schmollinger of the Tuolumne-Calaveras Unit and Fire Apparatus Engineer Johnny Miller of the Madera-Mariposa Unit.  The announcement was made this morning.
CAL Fire Director Ken Pimlott says, "Our firefighters put their lives on the line every day. But these individuals had to make decisions to act quickly, without regard to their own safety."
The below information about Schmollinger and Miller was provided by CAL Fire:
Fire Captain Justin Schmollinger, CAL FIRE Tuolumne-Calaveras Unit
On April 15, 2015, at approximately 2:30 p.m., CAL FIRE Fire Captain Justin Schmollinger, a resident of Valley Springs, was working with his inmate fire crew in the Valley Springs area when he noticed a large black column of smoke in the distance.  Captain Schmollinger loaded his crew into the bus, went to investigate, and arrived on scene to see a house in flames. Captain Schmollinger forced the back door open and called out to see if anyone was inside.  Hearing what he thought was someone trying to yell, he entered the smoke-filled burning home and found a semi-conscious man lying on the floor in the hallway.  Captain Schmollinger quickly began pulling the man to the back door, but when he was within 10 feet of the door, he was overcome by smoke.  He ran out the back door briefly, got a breath of fresh air, then re-entered the burning house and pulled the man completely out.  After the victim was safely outside, Captain Schmollinger requested emergency medical services and an air ambulance.  Once help arrived, Captain Schmollinger transferred care of the victim to the paramedics and helped firefighters extinguish the fire.  The victim was treated at the hospital for burns and smoke inhalation and released.  With no regard for his own safety, Captain Schmollinger's heroic service saved a man from a burning house.
Fire Apparatus Engineer Johnny Miller, CAL FIRE Madera-Mariposa Unit
On July 25, 2015, at approximately 3 p.m., CAL FIRE Fire Apparatus Engineer Johnny Miller, a resident of Eastvale, was boating with his family in a remote area of the Colorado River in Lake Havasu, Arizona, when he saw a boat suddenly submerge, throwing two infants and four adults into the water.  None of the adults were wearing life vests.  The water was very rough and visibility was limited due to the many speed boats drag racing on this particular section of the river.  Engineer Miller immediately called out to the adults to move away from the rapidly sinking boat and then, without hesitation, jumped into the choppy water.  The two infants were wearing life vests; however, they were so young their vests were ineffective and they could not keep their heads above the churning water.  Engineer Miller swam out and had both babies in his arms in a matter of minutes.  With the infants safely in his care, Engineer Miller then swam over and rescued their mother, who couldn't swim, and assisted all three to a waiting boat.  The men also lacked life vests, but were able to swim to the boat as directed by Engineer Miller. With no regard for his own safety, Engineer Miller's heroic service saved two infants and a woman from drowning when their boat submerged in the Colorado River.