Berryhill Announces April Is Donate Life Month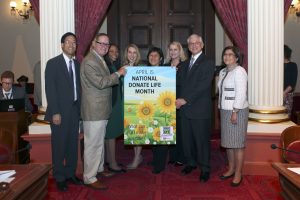 Sen. Berryhill Donate Life

View Photos
Sacramento, CA — District 8 Republican Senator Tom Berryhill recently announced  approved resolutions naming April 2016 as Department of Motor Vehicles (DMV)/Donate Life Month in California.
Senator Berryhill spoke in support of the bill noting he and coauthor Senator Sharon Runner, are both transplant recipients. Details and video of his comments are in the blog April is Donate Life Month here. Berryhill notes Nationally, April has been designated as Donate Life month for the past 13th years in a row.
The 2016 Donate Life Presidential Proclamation says, "Last year, the United States exceeded 30,000 annual organ transplants for the first time. Progress has been made and great promise exists, but much work remains to help the more than 120,000 Americans on the organ waiting list. This month, let us remember those we have lost and provide support to all who continue to wait and hope"
The text of California House Resolution 44 is here the text of Senate Resolution 71 is here they point out in 2015, 918 Californians became organ donors and 3,417 life-saving transplants were performed the state. Sen. Berryhill says the California registry includes more than 13 million people and is the largest in the world. Despite the registry's size, the resolutions point out, 929 people died due to the shortage of available organs and 22,000 Californians await transplants representing one in five on the national waiting list. Also stated is in 2015, California had the longest waiting time and most deaths while waiting.