Sonora High School Students Witness "Every 15 Minutes" Crash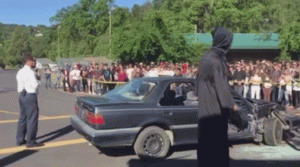 Every 15 minutes mock traffic collision

View Photos
Sonora, CA — A large group of Sonora High School students witnessed the consequences of an impaired driver crash this morning. A mock collision, as part of the "Every 15 Minutes" campaign, provides a visual of the statistic that every 15 minutes someone dies from a D.U.I. incident. Summerville High School students held their event on April 4 as covered here.
The Sonora event involves closing School Street from Washington Street to Snell Street for about an hour. Two damaged vehicles are brought in and student actors, either in or near the vehicles react to a fatal head-on vehicle incident. The actors are removed from the collision scene by multiple area law enforcement agency volunteers including Tuolumne County Ambulance, CHP, and Tuolumne County Fire responding as they do to an actual event. A mock injured student is treated at the scene by ambulance personnel, a deceased student is driven away in a hearse and the driver responsible for the accident is arrested. Sonora High Principle Ben Howell also read an obituary about the student who dies at the scene. The students removed from school related to the incident will not be at school the rest of the day.
Tomorrow Sonora High will hold an assembly to watch video taken of the event and summarize the "Every 15 Minutes" program. After the presentation students involved in the simulated accident return to school. The campaign is put on at schools nationwide is made possible by the Office of Traffic Safety and volunteers, plus it is a part of several Sonora students' senior projects.
The Sonora area CHP says, "This emotionally charged, 2-day program, is an event designed to dramatically instill teenagers with the potentially dangerous consequences of drinking alcohol and texting while driving. This powerful program will challenge students to think about drinking, texting while driving, personal safety, and the responsibility of making mature decisions when lives are involved."
According to the Every 15 Minutes Procedure Program Manual "The program's name was derived from the fact that in the early 1990's, every fifteen minutes someone in the United States died in an alcohol-related traffic collision. However…the death rate is now every thirty minutes, a figure which continues to be unacceptable." The manual also notes that the National Highway Traffic Safety Administration uses the term "crash" rather than accident, "This is particularly important when referring to alcohol-related traffic crashes since drinking and driving is the conscious (albeit impaired) choice of the driver."