Update On Butte Fire Debris Removal And Road Repairs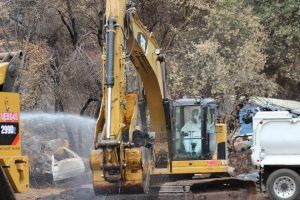 Butte Fire Recovery Debris Removal

View Photos
Calaveras County, CA — First, the flames ripped through, then fire and now recovery crews – all have taken a toll on the Butte Fire burn scar roads, which has Calaveras County officials working on a repair plan.
With the fire damaging over 80 miles of public roads within the burn footprint, county road officials estimate that the repairs will cost around $60 million.  County spokesperson Sharon Torrence notes the destruction is extensive, "Lots of ruts.  We've had so much rain and then the heavy equipment, which caused ruts.  The sides of the roads have been breaking down somewhat.  We've had culverts that have had to be repaired on county roads."
The poor roadway conditions have garnered safety concerns from resident, according to Torrence, who maintains, "There is a plan in place for public roads, county roads, and state roads.  They're trying to keep roads safe and patched until all of this is done.  Then they'll be looking at a more permanent fix later on in the summer and into 2017."  Another worry, as the roads continue to deteriorate who is responsible for fixing the roads.  Torrence acknowledges prior conditions of roadways will be a factor in that determination.  She adds that the county has already applied for grants in hope that federal and state disaster relief funds will pay a large chunk of the costs.  Repairing the roads will be a three-phase approach.  The county provided an outline of the plan below:
The initial work to restore safe travel within the burn area has included the removal of fallen trees and other debris, replacing damaged traffic signs, repairing surface damage, and clearing debris from the roadway after rain events.
Future activities for recovery will be underway in the months ahead.  The county is in the process of hiring an arborist to assess and identify hazardous trees along County roads.  This could affect property owners who have hazardous trees adjacent to and threatening public roads.  Once identified property owners will be contacted and asked to sign a Right of Entry to allow the county or its representative to access their property for assessment and removal of those hazard trees.
The county will then be hiring a consultant to develop repair strategies for roads based on available funding.  The planning and design work is expected to start in late spring or early summer.  Advertising for construction contractors to complete road repair and or remove hazardous trees is expected to begin in late summer to early fall 2016.
Additionally, debris removal work on properties continues to move forward with 823 properties cleared out of 833.  Already, 534 properties have received the final sign-off for work completed by the debris removal crews, according to Torrence.  The estimated completion date is April 22 as two teams remain in the field.  She indicates that just this week three more property owners signed up and more can apply on a case-by-case basis until April 12.
Property owners are encourage to submit building plans for review along with a building permit application before debris removal is completed on their land.  To date, 33 permit applications have submitted with 21 issued.  Some 18 of those are for manufactured homes of which 13 permits have been issued.