Local Lady Running For Miss Rodeo Oakdale 2016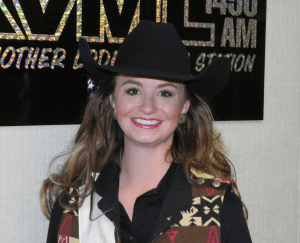 Mary Mackenzie Suess

View Photos
Mary Mackenzie Suess of Tuolumne County, is one of four ladies competing this evening for the title of Miss Rodeo Oakdale 2016. The Rodeo itself will take place this weekend, both Saturday and Sunday.
Suess was Thursday's KVML "Newsmaker of the Day".
Tonight's crowning of the new Oakdale rodeo royalty will take place at 6 PM at the Oakdale Cowboy Museum, located at 55 E F St. The public is invited to come watch this completely free event.
All four of the young women have been competing in competitions that include speech, horsemanship, ticket sales and photos. Tonight's winner will represent the Oakdale Rodeo throughout the state of California at rodeos, parades and various events.
The western lifestyle is a natural part of Suess's life. She recalls having a love for horses, ever since she was a toddler. The Summerville High School graduate is currently the Runner-up to the 2015-16 Mother Lode Round-Up Queen.
This Saturday at 9 AM, Suess will participate in the Oakdale Rodeo Parade, which runs along East F Street. It starts at Oakdale High School and ends at Savemart.
The PRCA Rodeo itself will take place at 1 PM both Saturday and Sunday (with the Grand Entry at 1:30 PM) at the Oakdale Saddle Club Rodeo Grounds. Tickets are available at the gate.
For more information, log onto www.oakdalerodeo.com
The "Newsmaker of the Day" is heard every weekday morning on AM 1450 KVML at 6:45, 7:45 and 8:45 AM.