$15 Million Conservancy Grant To Yosemite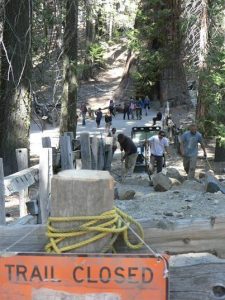 Mariposa Grove Restoration Project

View Photos
Yosemite, CA —  The Yosemite Conservancy will be dividing the $15 million in funding between several "wish list" projects in Yosemite National Park for 2016.
A majority of the money, about $9 million, will go towards the Restoration of the Mariposa Grove of Giant Sequoias project, already underway, which is keeping the grove closed for two years. As Conservancy Chief Operating Officer Jerry Edelbrock updates, "It is our biggest project ever. We were raising $20 million and the Park Service was raising roughly the same amount, so it was a match, kind of…we are hoping to get it open in a year — 2017. We are not exactly sure when that will be but we are hoping that the visitor access will be restored by next summer." (Find an earlier story on the Park Service funding here.)
The rest of the nearly $6 million will go towards 33 other allocated projects that include meadow restoration, trail improvements, wildlife and scientific projects, and Youth in Yosemite programs. Edelbrock elaborates, "Every year the Park gives us a 'wish list' of things they would like to accomplish but just don't have the budget for it and we select from that list those projects that we believe we can raise funds for, through direct donations to the Yosemite Conservancy from people all over the country. The vast majority of those though come from Californians, who are fortunate enough to have Yosemite in their backyard and recognize the value of it for their visits as well as future generations."
To date, the Conservancy has funded more than $100 million in grants over the past two decades, resulting in some 530 completed projects.