Snowpack Grows, Water Content Below Average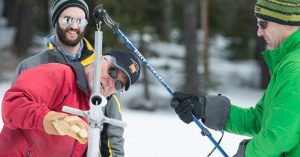 DWR snowpack manual reading

View Photos
Sacramento, CA — While the snowpack has dramatically improved over last year at this time, which was the lowest on record at 5 percent, state water officials recommend continued conservation as not much additional wet weather is predicted.
A team from the Department of Water Resources (DWR) conducted the fourth snowpack reading at the Phillip Station near Lake Tahoe Wednesday measuring 58.4 inches deep with a water content of 26 inches, which is 97 percent of average. Some earlier media reports had taken that number to be the state average, however, DWR officials report the statewide average actually came in lower at 87 percent. Spokesperson Doug Carlson stated, "The downer part of the assessment is that the increase in the snowpack has not kept pace with our hopes and expectations that the El Niño is going to deliver a lot of water to the state. It just hasn't happened."
Remarking that the conditions are just about as good as they're going to get this year, Carlson notes that there is nothing that indicates that the state is out of the drought.  "We would encourage people to show the kind of conservation thriftiness when it comes to water use that they have already demonstrated that they can do," notes Carlson.
Electronic readings for northern Sierra snowpack is 97 percent of average, while the central and southern Sierra are 88% and 72% respectively. The snowpack is normally at its peak on April 1. Of note, New Melones Reservoir is currently at 41% of the historical average for the date and Don Pedro is 82%.