Critical Sierra Snow Survey Upcoming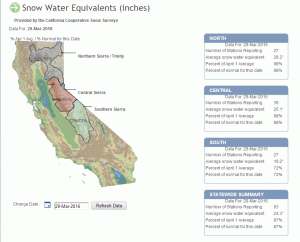 Sierra Nevada Snowpack Levels

View Photos
Sonora, CA — State water officials report that the amount of snow in the Sierra Nevada typically peaks around April 1st.
The Department of Water Resources' next Sierra Nevada manual snowpack reading is scheduled for tomorrow. A year ago at this time Governor Jerry Brown held a symbolic press conference at the Phillips Station near Lake Tahoe to show the severity of the drought and was photographed standing in a field where not a single snowflake could be found. (To view an image taken that day, click in the left image box.) This year the same site is anticipated to have several feet of snow, according to the DWR's Frank Gehrke, who oversees the manual readings. In fact, the snowpack at that location was measured at 58.3 inches when the March 1st survey was conducted.
Electronic sensors currently estimate that the Northern Sierra Nevada is at 98% of average; the central at 88%; and the southern 72%. The combined average is 87% of average for the date.