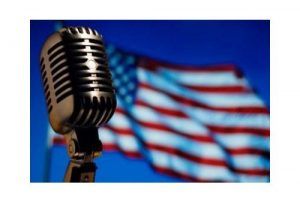 Microphone and US Flag

View Photos
Oklahoma State Rep. Lisa Johnson-Billy delivered this week's Republican address, discussing her life and creating opportunity in America.
Johnson-Billy was Tuesday's KVML "Newsmaker of the Day". Here are her words:
"Chokma, I'm Lisa Johnson-Billy. I'm a member of the Oklahoma state house, where I serve as the floor leader. I'm also a proud member of the Chickasaw and Choctaw tribes. In fact, I am the first Native American, the first woman, and the first Republican to represent my district.
I know I may not be a familiar face in Washington. But our leaders need to hear from people outside of Washington—the people who make this country run, who grow our food and pay the taxes and raise the families. These are the people I know and represent.
I was born in Purcell, Oklahoma. I grew up on a small farm, where every day I learned the value of hard work. When we woke up in the morning, it didn't matter if it was cold outside. It didn't matter if you were tired or a little under the weather. There was work to do, and we had to do it. That's how it is in the real world, and that's what my parents and neighbors taught me.
Another thing they taught me was to be grateful for the country we lived in. The reason my parents could make a second income on that farm is that this is a country where taking responsibility is rewarded. We had a government that kept the streets safe, protected what we earned, and fostered opportunity for all. We had a government that understood there's nothing more fulfilling than when you can provide for your family—and feel that sense of accomplishment.
That was the country I lived in. And that is the country I want my children to live in. So from a young age, I took an interest in public service. I served two terms in the Chickasaw Nation Legislature—alongside my dad—before I was elected to the state house. And today, I work with legislators of both parties to make sure we're passing on a confident America to our children.
I'm a wife of a military veteran and a mother of three children, the oldest being a member of the United States Army, so this is not some abstraction for me. I know that a lot of Americans don't feel confident about the future. But as we know in Oklahoma, what inspires confidence is performance. When government fulfills its responsibilities, that's what allows the people to create opportunity—the opportunity to learn more, to find a job, to start a business. And what opportunity ignites is hope. That's what pushes people through difficult times.
That's why Republicans are calling for a confident America—where hard work, honesty, thrift, education are all rewarded. We believe in giving people a hand up, a step up—in empowering them to live out their dreams. That's the confident America we believe in—and the one we believe we can build together. Thank you"
The "Newsmaker of the Day" is heard every weekday morning on AM 1450 KVML at 6:45, 7:45 and 8:45 AM.