A Dangerous Long-term Threat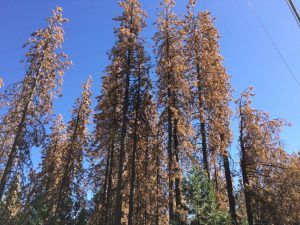 200 trees to be removed due to Bark Beetles Leisure Drive Sugar Pine

View Photos
Sonora, CA — Supervisors got some gloomy news related to the county's tree mortality issues, along with new details regarding a pilot project for taking on the crisis.
At its Tuesday meeting, the Tuolumne County Board of Supervisors voted unanimously to extend the Local State of Emergency due to drought conditions and imminent threat of disaster.  The vote came after hearing details from a Bark Beetle Forum, District 2 Supervisor Randy Hanvelt recently attended where a Colorado state official revealed how the insects plagued the state for nearly 12 years with devastating effects.  Hanvelt shares, "This is terrifying, but I want people to understand the seriousness of the situation.  Trees near buildings are a threat.  When they die, they become a threat immediately.  This problem is huge and it's not going away overnight.  We're going to live with it for a long time."
Acknowledging how critical the situation is along with the threat to human life and property, officials with the county's Tree Mortality Taskforce reported on its new proposed pilot program, still a work in progress, on to deal with dead and dying trees.  Mike Albrecht explained, "PG&E is going to do what they are good at, get the trees on the ground.  We are [the County] going to do what we are good at, log them.  Cal Fire is going to come clean it up.  So, it will be moving along with that kind of a system.  Then Caltrans has agreed wherever county roads intersect the highways or we are working adjacent, they are going to provide traffic control."  He added we explained this plan to officials on the Governor's task force and they stated they are looking for exactly that type of coordinated approach, which can also save on overall costs.  Albrecht reports the plan is to begin in the Leisure Pines area, then head to the Mi-Wuk and Groveland areas.  He added in order for the plan to work residents need to make sure and sign "Right of Entry" forms allowing crews on their lands.
Additionally, the U.S. Forest Service has expressed a desire to get in on the act in regards to tree work along Ferretti Road, offering to also pick up and haul away trees brought down by the county in that area, according to Albrecht.