Trail Proposed Behind Sonora Library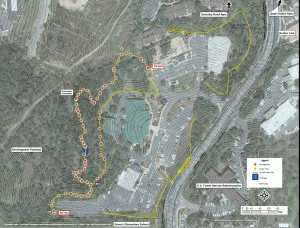 Proposed Walking Planned Trail Behind Sonora Library

View Photos
Sonora, CA — Transportation leaders are looking at the possibility of a constructing a walking trail behind the main Tuolumne County library.
It would run from the Tuolumne County Senior Center over to near the Heaven-4-Kids playground and skate park area (approximately one-mile). The proposed location is a draw for youth, seniors and the general public. It is within close proximity to several housing units, Sonora Elementary, SRMC, and several other facilities. The long-term plan is to also incorporate a "pump track" for bicycles, which would sit at the eastern side of the property, adjacent to Greenley Road, near the skate park. It would essentially be like a skate park for bicycles. It would be built so that small children just learning to ride could utilize it, alongside experienced riders.
The property is county owned, so the Tuolumne County Transportation Council (TCTC) Board of Directors will decide whether to pursue the approval of the idea with County Administration.  When it comes to funding for the projects, there is an opportunity this month to apply for a grant up to $15,000 from the Sierra Health Foundation. In addition, funding could be applied for through a new program the Sonora Area Foundation oversees, called "Trail Me About It."
An initial assessment of the property has already taken place, according to TCTC. Project boundaries, drainage, access points and area topography will be factored into the final design of the trail system. It is anticipated that the project would be categorically exempt from California Environmental Quality Act (CEQA) review.
The Tuolumne County Transportation Council will discuss the item at its meeting on March 9th.