Update: California Lawmakers Agree On Healthcare Plan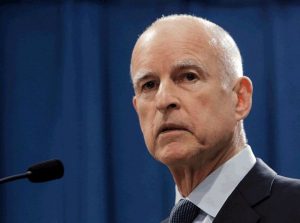 Jerry Brown

View Photos
Update at 5:30 p.m.: Moving quickly on the new legislation passedTuesday in Sacramento, Governor Jerry Brown has signed the tax intended to prevent a $1.1 billion hole in California's health care program for the poor.  The Governor's Office reports that the new law meets the federal government's new rules and will ensure federal funding critical to California's health care services.  It includes an additional $300 million in state funds for those with developmental disabilities, more than $400 million in retiree health benefits debt relief, repays transportation-related loans, and restructures the taxes assessed on the health insurance industry.  Officials in the Governor's office claim that is projected to reduce overall tax liability for the industry. (More details on the legislation can be found in the original story below.)
Original Post at 8 a.m.: Sacramento, CA — A wide-ranging bill package approved in Sacramento will ensure the state receives federal healthcare money, and also fund things like Butte Fire recovery.
In order to receive around $1-billion in federal healthcare funds to benefit programs like Medicare, the state was required to start taxing healthcare plans during 2016-17. A bipartisan effort evolved that taxed the plans, but also cut taxes in other areas, so that health insurance companies will hopefully not pass along the new costs to customers. By making the moves, the state can continue to receive the $1-billion.
Governor Jerry Brown says, "Democrats and Republicans came together today to do what's best for California. This legislation will save money and help millions of people with healthcare and disability services."
The Associated Press reports that several items were included in the package to gain needed votes. It includes $173-million to repay transportation loans, $240-million for future retiree healthcare costs, $123-million in relief from prior rate cuts for hospitals with skilled nursing facilities and $105-million for fire debris removal in Calaveras and Lake counties.