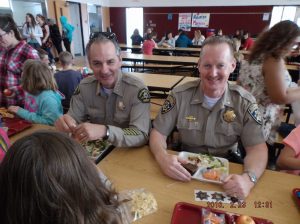 (Left To Right) Tuolumne County Sheriff Jim Mele and CHP Lt. Scott Clamp with students at Jamestown Elementary

View Photos
Jamestown, CA – Jamestown Elementary School students turned the table on some top cops and got to ask the questions.
Students from kindergarten to eighth graders sat down to lunch with Sonora Unit CHP Lt. Scott Clamp and Tuolumne County Sheriff Jim Mele. The questions ranged from, 'What's all that stuff on your belt, to why do you carry a gun?" according to CHP spokesperson Nick Norton, who states the reason for the visit, "It's the trust part of it, to get them to trust us. Sometimes we can appear to be intimidating when we're in uniform.  This gives us a chance to maybe bring down that wall…and let them get to know us, to know that we are here to help them."
Norton notes that some of the students have only had contact with law enforcement during the arrest of a loved one and that can make kids fear police. He adds that during these school visits the goal is to reassure the children that officers are there to protect the public and keep everybody safe.  Norton shares that law enforcement in Tuolumne County typically meet every other month with different school officials.  "We just go through the aspect of law enforcement in schools and try to form that great relationship, which we really do have in this community," explains Norton. "The meetings go on behind the scenes on anything from an active shooter type training to visits like this one. It is a great thing we have here."
The visit also included heading out to the playground to hit the slides and shoot some hoops — No word on who schooled who on the court.