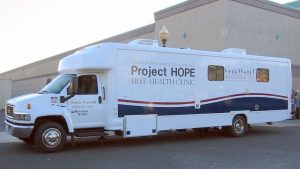 SRMC's Project HOPE healthvan

View Photos
Project HOPE, Sonora Regional Medical Center's free mobile medical clinic, is celebrating 20 years of service to the underinsured and underserved in Tuolumne and surrounding counties.
Gail Witzlsteiner, SRMC's Director of Development and Public Relations, was Thursday's KVML "Newsmaker of the Day".
Project HOPE was started in 1996 and used a rotating, all-volunteer team of practitioners to staff the healthvan. Later, with the help of a six-year grant from the California Department of Health Services, the Medical Center was able to hire a nurse practitioner to provide care. Today, the clinic is staffed by nurse practitioner Sheila Monaghan, who is assisted by long-time local physician James Mosson, the program's medical director. Funds raised by the Medical Center's annual Golf Classic in June, as well as donations from community members throughout the year, pay for the clinic's operating costs.
Witzlsteiner, Dr. Scott Klatt and the emergency department staff was instrumental in launching Project HOPE in 1996. Witzlsteiner continues to serve as the administrator of the program. "Our program goals are to improve access to quality healthcare for the homeless and underserved, and to reduce unnecessary visits to the emergency room," she says. "Many people in our community either don't have health insurance or have high deductibles that mean higher out-of-pocket costs. Project HOPE helps by saving patients the cost of a physician office visit, especially for non-emergencies such as flu, cold, blood pressure checks, and other episodic conditions." Witzlsteiner says Monaghan can provide physical exams and initial diagnoses, as well as write lab orders, issue prescriptions and refer patients to physicians and/or community resources. Invasive procedures such as blood draws and immunizations are not provided on the healthvan.
Witzlsteiner says that high healthcare costs and the current challenge of access to primary care physicians make Project HOPE more critical than ever. "Over the past twenty years, we have treated and/or referred thousands of patients who needed our help," she says. "We were able to provide this access to care thanks to a generous and caring community who have supported our Golf Classic. In the last five years alone, our most generous sponsors combined have donated nearly one-hundred thousand dollars to Project HOPE." Witzlsteiner says a short list of recent top sponsors includes Black Oak Casino, Sonora Hills Community, Comcast Business, Adventist Health, Affiliates in Imaging, Blue Mountain Minerals, Clarke Broadcasting Corp., Oak Valley Community Bank, and Sierra Cardiology Medical Associates.
Patients can visit the Project HOPE health van on Mondays and Fridays from 9 a.m. to 3 p.m, in the empty lot beside Wal-Mart in Sonora. The fourth Friday of each month the van is stationed at Interfaith, on Stryker Court off of Tuolumne Road. The van is not in service on national holidays. The visit itself and any services performed on the van are free. Patients are generally seen first-come, first-served, but Monaghan does triage to make sure that very ill people are seen before less urgent cases. For more information about Project HOPE, call Sonora Regional Medical Center's Foundation Office at 209-536-5029.
The "Newsmaker of the Day" is heard every weekday morning on AM 1450 KVML at 6:45, 7:45 and 8:45 AM.