State Continues To Heavily Lean Democrat: Mother Lode Is Republican Territory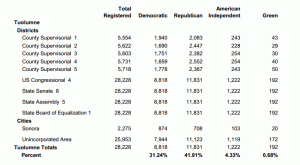 Tuolumne County Voting Statistics

View Photos
Sonora, CA — New state voter statistics show that the Mother Lode and State of California are nearly opposites when it comes to the number of registered Democrats versus Republicans.
Statewide, 43% of voters are members of the Democratic Party, nearly 28% are Republicans and 24% decline to state a party preference. In Tuolumne County, 42% are members of the Republican Party, 31% Democrats and 20% decline to state. In Calaveras County, nearly 42% are Republican, 30% Democrats and 20% decline to state.
Taking a closer look at the numbers, all five of Tuolumne County's Supervisorial district's lean Republican. District Four (represented by John Gray) has the widest gap, with 2,552 Republicans and 1,659 Democrats. District One (Sherri Brennan) is the narrowest, with 2,083 Republicans and 1,940 Democrats. All five Calaveras Supervisorial districts also lean Republican, and the narrowest is District Two (Chris Wright) with 1,753 Republicans compared to 1,639 Democrats.
The City of Sonora is the lone exception to the rule, according to state data, with 874 registered Democrats and 708 Republicans. The City of Angels Camp has 907 Republicans and 662 Democrats. You can find more data by clicking on the image box in the upper left hand corner.
The statistics were compiled by the California Secretary of State's Office.