Trash Posed Possible Water Threat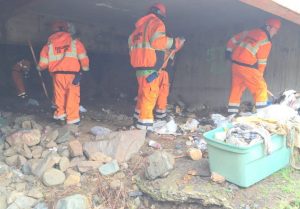 Trash clearing at Sonor bridge by Stockton Road

View Photos
Sonora, CA — The CHP reports Mother Lode Fairground officials alerted them to heaps of garbage under a bridge next to a creek running through Sonora, which raised water contamination concerns.
The lot off Stockton Road is used by the fairgrounds for extra parking but belongs to the state, according to Officer Nick Norton, who indicates that is why the CHP oversaw the cleanup.  He notes it appeared that people were living under the bridge but no one could be found during the cleaning. Pictures in the upper left-hand image box show the junk left behind. Tuolumne County Sheriff's Department inmate crews helped to pick up the trash. "It filled up three quarters of a Caltran's dump truck," shared Norton, who added that it was a grueling job requiring feces to be disposed of properly. Sourly he states, "There was a bucket that had some stuff in it that was taken care of and also we found some used needles and drug paraphernalia."
Norton was relieved that crews were able to clear the site this week before more rain, explaining, "Especially with the way the storms have been, if the rain would have continued. I would say that the water would have come up easily and taken all that [trash] out of there. So, we've stopped that process and kept the waterways clear." The cleanup paid off as California Fish and Wildlife tested the water and determined no pollutants had reached the creek, according to Norton.