State OKs Funding For TUD Dead Tree Removals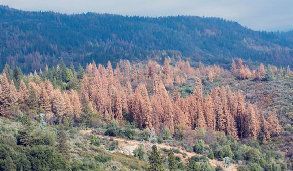 CAL FIRE Image of Drought and Insect-impacted trees in the Sierra Nevada

View Photos
Sonora, CA — Tuolumne Utilities District (TUD) will be able to tap significant state funding to tackle dead and dying tree removals.
TUD received that good news yesterday, according to the utility district's general manager, Tom Haglund. The state-provided monies, which cover 75 percent of the costs and require a 25 percent match by TUD, were made available under the California Disaster Assistance Act (CDAA) to help combat the rapidly compounding tree mortality issues that are rampant across the Sierra Nevada.
Haglund says the funding will likely be retroactive back to when Governor Jerry Brown first declared the state of emergency last fall. Since then, Haglund explains, "We have been doing just that type of tree removal that represented…a clear and present danger to our facilities…because the funding source was still unclear" With more than a hint of relief, he adds, "It was not until we received word yesterday that we had any sort of assurance at all that we would be receiving funding from the state."
TUD's survey of all its facilities, which includes 71 miles of ditch, has indicated that more than 500 trees now need to be removed. Haglund estimates that more than an equal number might succumb to drought-related tree death and insect infestations over the next two years. On average, TUD estimates removal costs around a thousand dollars a tree, depending on size, location and risk.
As it moves forward with the district's Hazard Tree Removal Plan, Haglund details, as next steps, "We will also be looking to remove trees that are within falling distance of our facilities…as far as 200 feet away…that means they might be located on private property, and so we are looking to look with private property owners." He points out that landowners working with TUD will be able to free themselves from any liability as well as help cover their own related costs. Haglund encourages property owners who think they may have trees at risk near TUD facilities to contact the district office.