Memorial Day Ceremonies Planned In Mother Lode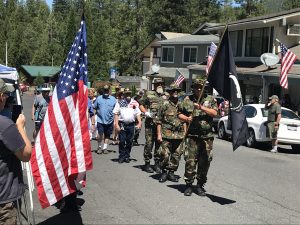 Twain Harte Memorial Day

View Photo
There are several ceremonies in the Mother Lode on this Memorial Day that will honor and remember those who paid the ultimate sacrifice.
The community is invited to attend the events listed below:
At 10am the VFW Post 4748 will host a ceremony at Carter's Cemetery in Tuolumne. The Summerville Jazz@8 will perform.
In the south county, the Oak Grove Cemetery District will also hold a 10am ceremony at the Oak Grove Cemetery located between Big Oak Flat and Groveland along Memorial Drive. It will feature Roland Elliot on the Bugle.
Coming up at 11am will be a Memorial Day service at the Veterans section of the Columbia Cemetery. There will be prayers, the Battle Hymn of the Republic and a salute to those buried. It will be conducted by the Columbia Foot Dragoons and the Columbia Grenadine Belles.
At 11:30am will be a ceremony in Twain Harte at the arch put on by the Friends of Twain Harte and the VFW Post 4748. Vietnam Veterans of America will help with honors and Summerville High School's Jazz@8 will perform.
Tonight at 6pm will be a Memorial Day Concert at Murphys Park put on by the Calaveras Community Band. The band, under the direction of Mickey Harper, will be performing patriotic numbers and other favorite selections.