Health And Wellness Grants Included Horsing Around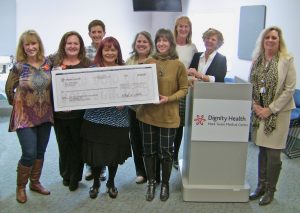 MTMC Grants Recipients (From left to right: Peggy Sparrow, Director of Services – Calaveras ARC, Susie Bussel, Board Member, Harmony Ranch; Mary Ellen Sousa-Hiner, Executive Director and Co- Founder for Creative Support Alternatives; Elizabeth Thompson, Executive Director for Common Ground Senior Services; Lurali Moore, Director of Operations, ARC;Karyn Gregorius, ARC, Kathi Toepel, Assistant Director for Common Ground Senior Services; Jamie Sorrell, Director of Supported Living Services ARC; and Nicki Stevens, Manager of Marketing Business Development, MTMC.

View Photos
San Andreas, CA — Four non-profits in Calaveras County will share a $28,000 Mark Twain Medical Center (MTMC) Community Grant for 2015.
MTMC held an award luncheon last month and provided the below list of charities:
The Arc of Amador and Calaveras (will provide more than 150 individuals with intellectual and developmental disabilities greater access to a broad range of health and nutrition related activities)
Common Ground Senior Services (supports the independence of individuals with disabilities through resources, advocacy and services)
Creative Support Alternatives (provides Supported Living Services and Independent Living Services to people with developmental disabilities)
Harmony Ranch (horsemanship program offering recreational therapeutic services to children and adults with or without special needs)
Medical Center spokesperson Nikki Stevens says that it was a collaborative effort by the non-profits to partner together to make the funds work for all, which included a unique twist of utilizing horses in the therapeutic process. She explains, "The four of them got together and submitted a full proposal, based on the needs of their clients and community. They're going to be working together overseeing multiple projects that benefit the health and wellbeing of those that they serve."
The partners will hold four nutrition workshops to help educate individuals on healthy eating, physical activity, and community resources. Executive Director of The Arc of Amador and Calaveras Karyn Gregorius indicates, "The Community Access and Education Program will assist people with intellectual and developmental disabilities and seniors in accessing their community without barriers. The program will improve access to health related services and information in Calaveras County. Emphasis will be on prevention and education. The Arc and our grant partners will promote local resources while working to provide opportunities for learning in the local community that will focus on intervention and prevention."
Stevens notes that, in all, six local non-profit organizations originally submitted proposals, which totaled $91,000. The medical center's community grants program has doled out more than $348,000 to date.