Bigelow Poses Questions About Forest And Bond Spending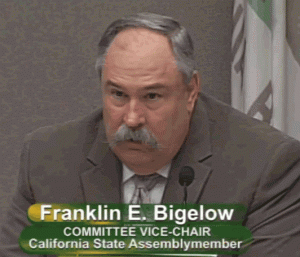 Frank Bigelow At Assembly Committee Hearing

View Photos
Sacramento, CA — State officials provided an update on the $7.5-billion Proposition 1 water bond that was approved by voters in 2014.
A joint hearing was held by the Assembly Water, Parks and Wildlife Committee and the Budget Subcommittee on Infrastructure and Transportation. Mother Lode District Five Assemblyman Frank Bigelow questioned Jim Branham, Executive Director of the Sierra Nevada Conservancy, about steps being taken to provide funding to protect forestland from wildfires, through efforts like thinning and watershed improvements. Branham responded, "I think we are seeing progress in how communities have come together with the unusual bedfellows that have been fighting forever and realized that the forest was going to hell, pardon my language, around them. So we are making some progress. It wouldn't surprise you to say that we could use a lot more resources to address the problem. The magnitude of it is somewhat overwhelming."
Branham noted that the groundwork has been laid to improve the health of the forests, but it is a "massive problem." A major concern is the lack of infrastructure to remove the high amount of biomass in the forested areas, and is a problem that needs more addressing.
With a large segment of forest land being under the umbrella of the federal government, Bigelow also asked about efforts to "bridge the gap" so the state and feds can better work together. Branham replied, "Working across those boundaries can be challenging, and I think we have a very good working relationship with the US Forest Service, and they are partnering on the watershed improvement  program."
Branham added that California Secretary of the Natural Resource Agency John Laird recently entered into an agreement under the federal farm bill that provides for "good neighbor authority" that could provide a tool for work to be done more easily on federal land, consistent with its objectives.
At a different portion of the hearing, Bigelow asked Secretary Laird about whether the state, and his particular agency, supports the creation of new water "surface storage," utilizing the $2.7-billion available in the bond, or whether it is just "lip service." Laird answered, "yes," the state was serious about funding additional storage.