Butte Fire Survivors Get Another Incentive To Rebuild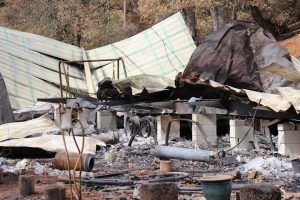 Butte Fire Recovery Debris Removal

View Photos
San Andreas, CA — Calaveras County is waiving two fees worth thousands of dollars for Butte Fire survivors.
The county charges the one-time fees to property owners during the building of a home. The state provides that those fees must be waived in the case of a natural disaster or catastrophe, according to County government spokesperson Sharon Torrence. She says, "Since they have paid them in the past, when they first built, they aren't going to be required to pay them again."
The savings can be huge for those trying to rebuild after the devastating losses from the flames. The fees include one for the schools, which charges $3.20 per square foot of living area, equaling $12,429 for a 2500 sq. ft. home. The other is a flat fee of $4,429 for Road Impact Mitigation. Torrence explains how the school fee works, saying, "It kicks in if they decide to build a bigger house. They will be charge for the additional square footage between the new house and the original house."
One note, the conditions apply only to legally permitted homes and all other fees will still apply, according to Torrence. An Estimate of Fees form is available at the Calaveras County Building Department, 891 Mt. Ranch Road in San Andreas or by clicking here.