Despite Rains, Butte Fire Clean-up Making Inroads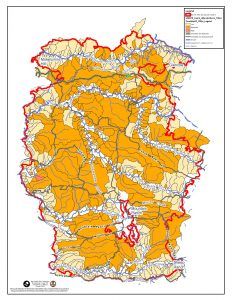 Butte Fire Preliminary 100-year Combined Hazard Map

View Photos
San Andreas, CA — Despite this week's wet weather Butte Fire debris removal efforts continue to make good progress, according to local officials.
Calaveras County government staff reports that 30 crews are currently working within the fire footprint. With rain in the forecast through the weekend, work conditions are being evaluated daily on a site-by-site basis for safety reasons. However, weather permitting, crews will continue working Monday through Sunday on a seven-day weekly schedule.
Current data indicates that work is now complete on 299 of 816 sites registered for burn debris removal. Active erosion control measures include site-specific assessment, and the design and placement of straw wattles on impacted properties. State and federal EPA figures indicate that household hazardous waste materials have been removed from 733 properties; 178 soil samples came back with approved results of the 229 collected, to date.
Calaveras County Board of Supervisors Chair Cliff Edson states that the massive clean up effort in the aftermath of last September's nearly 71,000-acre wildfire disaster, in spite of all the recent precipitation, is impressive and still somewhat daunting, due to all the related required work and complexities.
The 'Line Wait' Adds To Frustrations
Edson comments, "It is moving, I think, as quickly as it can…it is pretty hard for people who are off their properties." Further describing their frustration, he states, "When [work] trucks drive by, there are a lot of questions…but…somebody had to be first and somebody has to be last — that is just the way it is…I know [the crews] are all trying as hard as they can to work…move as quickly as they can and be safe."
He additionally lauds the efforts of Calaveras Recovers, a multi-agency recovery group now working to rebuild Mountain Ranch and other impacted areas with a particular focus on survivors who have suffered the most severe impacts and may be under-insured or uninsured.
As to estimates when clean-up from the disaster might finally be complete, Edson points to the many variables within each of the properties; issues with access, crew vehicles and apparatus on the limited rural roads; and numerous other challenges that must be dealt with as they continue to unfold.
While county officials state that long-range debris removal schedules are not available for specific properties, property owners who missed the official deadline might still sign up for the program by contacting the county EPA, as additional properties are being considered on a case-by-case basis. To determine if your property is eligible, call 209 754-6399.