Californians Continue Support For Stiffer Gun Control Laws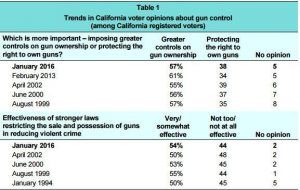 Field Poll on guns control laws

View Photos
San Francisco, CA – A majority of California voters remain in favor of tougher gun laws in the wake of the deadly attack in San Bernardino on Dec. 2.
A new Field Poll finds that 57% of voters approve stricter controls on gun ownership over protect the rights of Americans to own guns (38%). There is also strong bipartisan support for two state proposals that target greater restrictions on gun ownership.  One, with 80 percent in favor, requires a background check for anyone buying ammunition. The other, with 75 percent approval, would prohibit anyone to buy a gun who is on the federal government's "do not fly" list.
Additionally, the trend continues with 58 percent favoring outlawing large-capacity ammunition magazines and 56 percent expanding the definition of the state's assault weapons ban to include semi-automatic rifles with detachable ammunition magazines.
Regarding whether tougher gun laws have an impact on reducing violent crimes, brought a split in voters along party lines.  At least seven in ten Democrats believe such laws are effective in reducing violent crime, while seven in ten Republicans oppose that view and maintain it is more important to protect the rights of gun owners that pass new gun control laws.  However, overall 54 percent of Californians equate stronger gun laws with reducing violent crime to 44 percent that see them as having no effect.