Californians Fear More Terrorists Attacks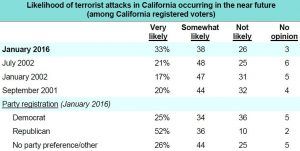 Field Poll Chart on likelihood of future terrorist attacks

View Photos
Sacramento, CA — A new poll shows a majority of the state's voters believe more terrorist  attacks are inevitable and worry the government will go overboard in its anti-terrorist efforts.
The Field Poll found most Californians do not believe that the December 2 terrorist attack that killed fourteen and wounded twenty-two in San Bernardino will be the end of such violence in the state.  About one in three believe that attacks will happen in the state in the near future, a dramatic shift from a 2002 poll with only about one in five feeling that way.
Only 21 percent of those questioned indicated they were "very confident" the CIA, FBI and other law enforcement agencies are capable of preventing or break up a similar attack. In addition, 55 percent worry that the government will take away too many freedoms and personal liberties with its anti-terrorist measures. A majority of Californians, 51 percent versus 31 percent, also oppose putting American boots on the ground to fight ISIS in Iraq and Syria. Democrats oppose the move more than two to one and Republicans favor it, five to three.