Rodeo Queen Contestants Wanted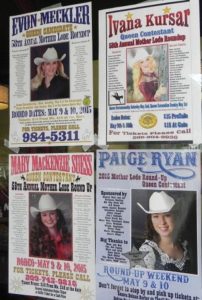 2015 Mother Lode Roundup Queen Contestants

View Photos
Sonora, CA — Organizers are calling on all cowgirls to saddle up for the 2016 Mother Lode Roundup Queen contest and this year there is a bonus.
For the first time, not only will the 16 to 24 year olds compete for the crown, but so will 12 to 15 year olds in a new junior contest. Queen Contest Coordinator Terri Barnhart explains, "We're really excited to be able to give a new platform to sort of groom them to come to the next level of the big girls and be the Mother Lode Queen."  Barnhart adds that the younger girls competition will include selling raffle tickets, horsemanship, rodeo knowledge, poise and appearance along with a small amount of public speaking.  The judging categories for the women include horsemanship, interviews, a written test, speeches, personality and rodeo ticket sales.
The application deadline is fast approaching for both contests; with the young women's mandatory orientation on Jan. 21, a qualifying ride on the 23 and the kick off of the nearly 5 month long contest on the 24. The girls orientation is Feb. 24 with a qualifying ride on March 5 and the contest starts on the 7th. Barnhart shares that three contestants have already signed up but more participants are welcome, stating, "Until the kick off, we don't really know how many contestants we will have in either of the contests. We have interest in both [contests] but we really, really want to have more!"
The goal of the contest, according to Barnhart, is to help girls grow into strong, independent, and confident women.