Bankrolling Some Butte Fire Relief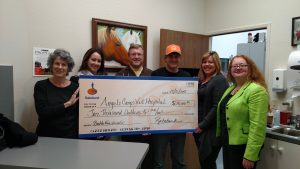 Angels Camp Vet, left to right: Alice Sunseri (owner), Mary Macias (business banking officer, Rabobank), Dr. Michael Hayes (owner), Dr. Thomas Heermance (owner), Jolee Peterson (Angels Camp branch manager), Shaney McPoland (Angels Camp branch banking services officer)

View Photos
Angels Camp, CA – Officials from two local Rabobank branches wrote out checks to two charities helping Butte Fire survivors.
Rabobank has donated $20,000 to the fire relief efforts. The Resource Connection Food Bank and the Angels Camp Veterinary Hospital each got a check for $10,000 for aiding both human and animals displaced by the flames.
Rabobank's Arnold and Angels Camps Branch Manager Jolee Peterson and Banking Services Officer Shaney McPoland, pictured in the upper left-hand image box, hand delivered the checks to each organization just before Christmas.
"Understanding that all of Calaveras County was affected by the Butte Fire, we wanted to give back to those who have lent a helping hand, and further support the families and animals still trying to get back on their feet," Peterson said of the bank's gift. "We truly appreciate the efforts these two charities have made to direct funds where they are most needed."