Ballot Measures On Smoking And Transparency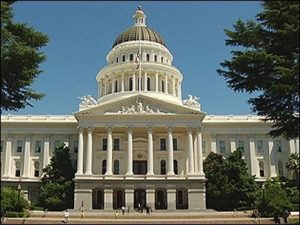 California Statehouse

View Photos
Sacramento, CA — The California Secretary of State has given the proponents of two potential ballot measures the green light to begin collecting signatures.
The first proposal would increase California's cigarette tax by $2.00 per pack. The new tax money would be used to help existing healthcare programs and tobacco use prevention efforts. Billionaire hedge fund manager Tom Steyer is among the proponents that submitted the ballot proposal.
In addition, the Secretary of State has cleared a ballot measure that would prohibit state lawmakers from passing any bill unless it has been in print and published on the internet for at least 72 hours. It would also require the legislature to make all audiovisual recordings of meetings, except for closed sessions, available on the internet. The state estimates that the ballot measure would cost $2-million to implement, and $1-million annually to sustain. The proponents are listed as Charles T. Munger Jr. and former Republican State Senator Sam Blakeslee.
Both proposals require 585,407 signatures in order to be placed on the ballot. They would go up before voters in November of 2016.