Mountain Snow Equals Healthy Tourism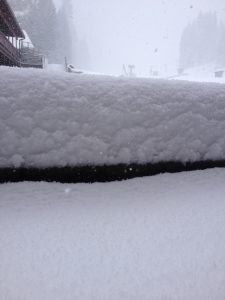 Snow Falling Tuesday at Dodge Ridge

View Photos
The Tuolumne County Visitors Bureau (TCVB) is quite happy with the recent snowfall in the Sierra Nevada.
Lisa Mayo, Executive Director for the TCVB, was Wednesday's KVML "Newsmaker of the Day".
A good snow pack equals healthy winter tourism that affects all of Tuolumne County, According to Mayo.
"a good snow pack brings tourist business into local retail stores, restaurants and lodging facilities. Even after Winter is over, a great snow pack continues to bring good tourism to Tuolumne County all the way through the Summer," said Mayo. "It brings water to our rivers and lakes and creates a healthier wilderness."
Mayo is forming partnerships with specialty groups in the Bay Area, who are beginning to recognize the easy access to the Sierra Nevada and the affordability of Tuolumne County, compared to other mountain regions such as Lake Tahoe.
"Despite the drought, 2015 was a pretty good year for tourism, so we are excited about the promising start to the ski season that we've seen so far," said Mayo. "2016 could be a great year, but it will continue to take hard work and as always, a few other factors."
Mayo reminds local residents that there is all sorts of information available to residents on the Bureau's website, www.yosemitegoldcountry.com or call (209) 533-4420
The "Newsmaker of the Day" is heard every weekday morning on AM 1450 KVML at 6:45, 7:45 and 8:45 AM.