Rudolph And Nuzum Receive Special Recognition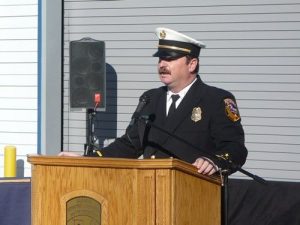 Barry Rudolph

View Photos
Sonora, CA — Some longtime leaders in the county, who are stepping down from prominent roles, were given special recognition from the Tuolumne County Board of Supervisors.
James E. Nuzum was recognized for his years of service as a member of the Tuolumne County Historic Preservation Review Committee. During his time he gained the nickname, "The Father of Historic Preservation in Tuolumne County."
Nuzum also served as the county's Planning Director from 1979 to 1992, when he led the county's efforts to prepare and adopt its first comprehensive General Plan.
At today's meeting, Nuzum said, "It's been an enjoyable time, and I've always said, my motto is, 'if it ain't fun, I ain't going to do it.' As people have sympathized with me with some of the battles I've had up here, I've always said that I have a great job, and I've got the best place in the world to do it."
Nuzum's time as Planning Director was when Tuolumne County had a period of several development projects to review.
Also, CAL Fire Battalion Chief Barry Rudolph is retiring this month after 35 years in the fire service, and he was thanked for his commitment to keeping Tuolumne County safe.  The Supervisors praised Rudolph for being a longtime leader in the fire service, and having great command presence in the field. Cal Fire Unit Chief Josh White added that Rudolph's impact was not only in the field, but behind the scenes. He said, "He (Rudolph) would sometimes be texting me at five o'clock in the morning to see if I was up, and as soon as I read those text messages, I would know that he was up for a number of hours already and was planning and scheming, and coming up with new ideas to protect the citizens of Tuolumne County."
It was noted that Chief Rudolph was recently very instrumental in fighting both the 2013 Rim Fire and this past summer's Oak Fire. Rudolph humbly added, "In the fire service we teach that there is no 'I' in team. Any of those things that you talked about, a lot of the guys in the back of the room (at the Supervisors meeting) were also a part of that, and made that happen. It wasn't anything that could be done by yourself."
Chief White added that Chief Rudolph's work with local fire safe councils is "untouched by others." He was also praised for helping to secure grant funding for a Jamestown Fire Station, mentoring countless firefighters, and developing the Tuolumne County Fire Department Rope Rescue Team.