Warm Shelter For Inclement Weather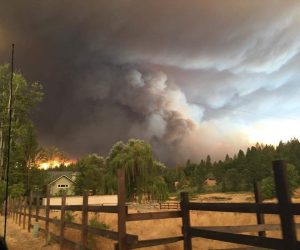 2015 Butte Fire Visible From Glencoe

View Photos
Mountain Ranch, CA — Butte Fire survivors will get a warm place to rest as the forecast calls for winter storms to blow through the Mother Lode this week.
Mountain Ranch Community Relief Efforts, a group of volunteers, plan to hold a second "Out of the Weather Rally" at the Mountain Ranch Community Hall for those still in tents and campers. The hall is located at 8049 Washington Street in Mountain Ranch. The rallies will begin Thursday, Dec. 10 and run each night from 6 p.m. until 7 a.m. ending on Monday morning, Dec. 14.
The group provided these guidelines for using the shelter:
Services will be available for Butte Fire survivors living in  substandard housing situations in the burn scar only.
Meals and beverages will be available.
Survivors are encouraged to bring their own bedding.  Some  bedding will be on hand for those in need.
Small to medium size family pets are welcome. All pets remain the responsibility of the pet owner.  All pets must be in a crate while in the Hall. Pet owners are encouraged to bring their own crates.  Some crates will be on hand for those in need.
Drugs and alcohol will not be permitted at any rally.
Additionally, transportation is available by calling 800-320-1407.