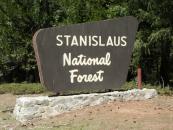 Stanislaus National Forest Sign

View Photos
Sonora, CA — Many families begin their quest for the perfect Christmas tree right after Thanksgiving Day, but do not look for it on the forest, according to Stanislaus National Forest officials.
Forest Service spokesperson Rebecca Garcia reminds the public that it is illegal to chop down a tree in the forest. She says, "It's tempting to look out on the forest and think, 'Hey, that's public land it's mine too', right?" However, Garcia explains,  "In the past we have had people go out there and chop the top of a tree off and think that makes a great Christmas tree, but it also make for an eyesore out on our public lands and it's simply not allowed."
Garcia stresses that free use gathering permits are available for items such as limbs, boughs, foliage, needles and cones for use in holiday decorations. However, those collecting these items for commercial use will need to get a special permit.
Anyone caught taking down a tree on the Stanislaus National Forest can be charged with Committing Natural Resource Damage and face both federal and state fines.