Butte Fire Debris Removal Continues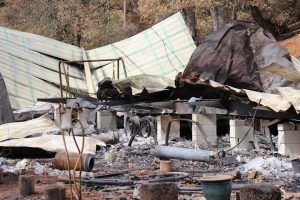 Butte Fire Recovery Debris Removal

View Photos
Calaveras County, CA — Cleanup continues in Calaveras County following the Butte Fire.
The county reports that 776 properties have been signed up for the debris removal program, and work has been completed at 86 properties. 22 crews are working seven days a week, weather permitting. This week work is focused on the western and central Jesus Maria areas, as well as Old Gulch, Wendell, Mokelumne Hill, East Murray Creek, Avenue A, Whiskey Slide and Hawver Road.
At this point, 733 properties have had dangerous household hazardous waste materials removed. Air monitoring continues to ensure that airborne contaminants are contained. Erosion control work is also actively underway.
The Butte Fire ignited on September 9th and burned 70,868 acres. 475 homes were destroyed and 343 outbuildings. The fire resulted in two fatalities. It was fully contained in early October.