Commemorating Veterans Day In The Mother Lode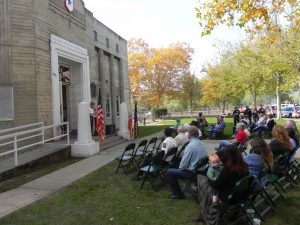 Tuolumne Veterans Day

View Photos
Sonora, CA – Several ceremonies and activities thanking military veterans for their service are slated across the Mother Lode for Wednesday, Nov. 11, Veterans Day.
Ray Garcia, chairperson for the 15th annual Veterans Recognition Day at the Seventh Day Adventist Church in Sonora, was Wednesday's KVML "Newsmaker of the Day".
The annual Veterans Recognition Day begins sharply at 10:45 a.m., this Saturday November 14th, in the gymnasium at 40 N. Forest Road in Sonora.
"It's open to all veterans in the county," said Garcia. "If they're a veteran, they're welcome. This includes our younger veterans. This is also an event open to families and the general public."
Veterans of all wars will be honored and presented with a commemorative medal. Lunch will also be served at the free event.
A Veterans of Foreign Wars honor guard will present and then retire the colors. The National Anthem will be played and the Children's Youth Group and the Sonora Men's Chorus will sing songs.
History
Though celebrated widely, today became a legal holiday dedicated to the cause of world peace through a 1938 Act of Congress. Its roots stem from Armistice Day, November 11, 1918, when World War I hostilities officially ended, inspiring President Woodrow Wilson to proclaim that the first marked observance of that date would occur the same time one year later; moving forward, the day became widely commemorated across the country. In consideration of U.S. armed military service and sacrifices during World War II and the Korean War, Congress renamed it Veterans Day in 1954 to reflect to honor American veterans of all wars.
For a time during the late 1960s through early '70s, the federal government and several states were at odds over when to observe Veterans Day. Congress sought to include it among other national holidays to be celebrated on Mondays (thus, ensuring three-day weekends for Federal employees) and briefly succeeded. Through a public law, signed by President Gerald R. Ford, the holiday was, by 1978, restored to its original observance date.
Local Observances
From 10 until 11 a.m. the Ebbetts Pass Veterans Memorial District will hold a ceremony at the memorial park on Algiers Street featuring a color guard and guest speakers. Click here for the particulars.
A short ceremony is also planned in Groveland at the Divide Cemetery at 20998 Hillcroft Drive from 10:50 to 11:15 a.m., with the playing of taps and lowering of the American flag, as further detailed here.
From 11 a.m. until noon at the Tuolumne City Memorial Hall on Fir Street, the VFW Post 4748 will host its Veterans Day Ceremony with songs by Summerville Union High School's Jazz@8 and award winning essays by local students. For more on this event, click here.
Also from 11 until noon, the Columbia Foot Dragoons and Grenadine Belles plan a Veterans Day Salute at Columbia Cemetery on Main Street to include a flag raising and black-powder salute. Click here for the full scoop.
For the fourth year running, the Copperopolis Veterans Day Parade will head down Main Street at 11 a.m. and will be followed by a public safety day, bake sale, free hotdogs and refreshments.
In Murphys, the annual Veterans Day spaghetti dinner, free to vets and sponsored by Ruby Parlor #46 Daughters of the Golden West, follows opening ceremonies that will commence at 5:30 p.m. Non-vets pay $10 admission with proceeds benefiting veterans programs. For RSVP and other details click here.
Freebies Celebrating Vets
While Veterans Day is a federal, state and bank holiday, parks are open and, as previously reported, Yosemite National Park has waived entrance fees for the day.
At the Railtown 1897 State Historic Park, former and current military personnel are being treated to complimentary park admission — and also free excursion train rides from 11 a.m. until 1 p.m. For more details click here.
The "Newsmaker of the Day" is heard every weekday morning on AM 1450 KVML at 6:45, 7:45 and 8:45 AM.