Sierra Nevada Winter Storm Warning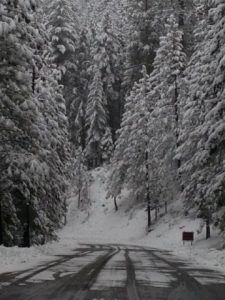 Snow On Road

View Photos
The National Weather Service has issued a Winter Storm Warning for the Sierra Nevada above 3500 feet, which is in effect until 7 AM Tuesday.
Total snow accumulations will range from four to eight inches above 3500 feet and eight to sixteen inches above 7000 feet.
There could be rates of one to three inches of snowfall per hour if thunderstorms develop over the Sierra Nevada. Low visibilities are likely during heavy snowfall.
A Winter Storm Warning means significant amounts of snow are expected or occurring. If you must travel, keep an extra flashlight, food and water in your vehicle in case of an emergency.
Additionally, a Flash Flash Flood Watch remains in effect for the Butte Wildfire Burn Area in Calaveras County through this evening.
Flash floods and debris flows will be a particular threat in and below the recent burn scars due to the potential for thunderstorms today.
Rainfall rates could exceed one quarter inch per hour during thunderstorms.
Recent burn areas typically absorb only small amounts of rainfall, leading to enhanced runoff, particularly when rainfall rates are heavy. Those traveling along roadways within the burn areas should be alert for possible road problems due to flooding, rock and debris flows.
This could quickly become a dangerous situation. Residents and persons living and traveling within the burn areas should remain alert and take action should heavy rain develop. A Flash Flood Watch for a burn area means that conditions, including the formation of thunderstorms, may develop that could generate heavy rainfall rates. Heavy rainfall rates over recent burn areas could lead to flash floods, rock slides and/or debris flows. This is a heads up product. Be prepared to take action.