Foundation Bestows Biggest Gift Yet: $500,000 To Cancer Center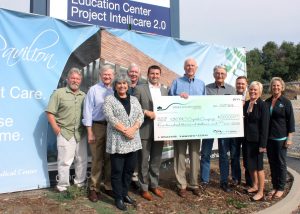 Sonora Area Foundation board members present a $500,000 donation for the SRMC's new cancer center capital campaign to Andrew Jahn, President/CEO and Gail Witzlsteiner, Executive Director of Sonora Regional Medical Center's Foundation. Pictured, from left, Mark Kraft , Roger Francis, Gail Witzlsteiner, Pete Kerns, Andrew Jahn, Jim Johnson, Bill Polley, Gary Dambacher, Tracy Russell, and Carey Haughy.

View Photos
Sonora, CA — A whopping check for $500,000 has brought the Mother Lode's new cancer center capital campaign within $500,000 of its $3 million goal.
The Sonora Regional Medical Center reports that the gift is the largest ever made by the Sonora Area Foundation's Irving Symons Foundation for Tuolumne County.
Smiles abounded as Sonora Area Foundation board members presented the $500,000 gift check to Andrew Jahn, SRMC CEO/president and Gail Witzlsteiner, executive director of the SRMC Foundation (as apparent by the upper left image). Acknowledging how rewarding it feels to receive a gift from community leaders that so soundly demonstrates their solidarity with the center's direction, Jahn also states, "We are incredibly grateful for the support that the Sonora Area Foundation is demonstrating with this very generous gift."
Adds Witzlsteiner, "When Lin Freer and Ed Wyllie of the foundation called, they asked me if I was sitting down before they told me the amount of the gift — it is a tremendous boost to the capital campaign."
Wyllie, the Sonora Area Foundation executive director, shares one of the reasons that its board decided to help fund the project. "Cancer has become so invasive in our society that everyone seems to know someone that has been impacted by it," he explains. Besides the board seeing the center as a benefit to the entire community, Wyllie states, "It is "the type of facility that our founder Irving J. Symons would want to have grant funds directed towards."
Now celebrating its 25th anniversary, the foundation and its two supporting organizations, the Irving J. Symons Foundation for Tuolumne County and the Symons Family Fund, have assets of more than $45 million and expect to award over $2 million before the end of 2015. Through such grants the governing boards regularly fulfill needs across Tuolumne County.
The capital campaign for the new $36 million cancer center has been underway since last August. It is additionally being funded by $29 million from Adventist Health and $4 million in hospital reserve funds. The 64,000 square foot facility, itself, now under construction on the corner of Greenley Road and Mono Way, is expected to open by late 2016 or early 2017. Anyone interested in donating to the cancer center should call the foundation office at 209 536-5029.